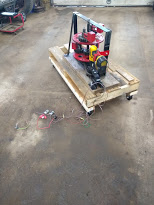 Post vehicle, wheeled, ground-testing.

After a short pause caused by things in life that have required my undivided attention, I'm back & ready to get busy.

So, the on-road testing would be considered a success, and the "hybrid-assist" effect is undeniable. The "failures" encountered within that round of testing were due to the prototype building methods and materials. It is hard to justify the cost in time and materials for a more durable build when it is being taken apart and changed multiple times.

Total cost of materials for a single planet gear, without the weight, is around $8 US. The cost of a machined, straight toothed, drilled hole center, spur gear of the same size is around $200 to $300 US. In that light, the component failures are an acceptable offset to the cost differential. Now we move forward with further testing of the PIE 2.0 while still getting ready to build a next version.

**********************************************************************************

One thing I have purposely not mentioned are the efforts being put forth by other people around the world to either replicate a PIE 1.0 or 2.0, or to incorporate their own designs into a build of their own. Because of those awesome individuals helping to further this research (thank you again for the help) my next version may be a 4.0 or higher.

**********************************************************************************

Now I will cover the post-road-testing phase of PIE 2.0 testing.

Nothing was changed with the setup in any way between removing it from the truck and installing a set of hardware store straight caster wheels on it. The wheels were attached to 2 pieces of lumber (2X4s) and the lumber was attached to the bottom of the pallet with wood screws. Testing was done on a level concrete garage floor surface, and pieces of sheet steel were laid down under the wheels to allow them to roll as easily as possible.

Results were not as good as I had anticipated. Forward thrust was definitely present. When it was running, I could easily push it forward with one finger, but it would not move forward on its own.

This distressed me greatly, since there is an undeniable and measurable thrust present when used for "Hybrid-Propulsion". I have pondered this in great detail, and I have several thoughts as to the reason.

1. The wheels roll too hard, and they are also flexing. This combination makes pulsed propulsion nearly impossible.

2. The drill motor is dying. It has worn to the point of reduced torque which means that there is an unwanted & uncontrolled speed variation. Every inertial propulsion design I have ever experimented with has been rendered inoperable at some point in testing because of this phenomenon.

3. Comparing the PIE 1.0 & 2.0 I believe there may be the same issue spoken about with other builder/experimenters regarding timing changes needed to allow a "hybrid-assist" device to be fully "self-propelled". Since both PIEs work as a hybrid-assist, but the PIE 1.0 also demonstrates self-propulsion I believe this is a solid theory.

In order to prove this theory of the two different "modes" to myself, I started removing weights one at a time from the PIE 2.0 and observed the operational differences. There were some interesting things to be observed, and a lot of very loud noises being made. When I got down to one weight it began to self-propel. It does try to propel itself with 2 weights set 90 degrees from each other, but there is no denying the self-propulsion with only one weight. I truly believe that this may be, in part, the answer.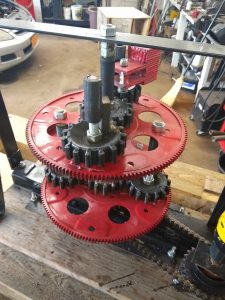 My next moves are as follows:
1. Re-phase the upper & lower wheels to bring the weights into sync between the top & bottom.
2. Replace the ailing power source to stabilize the RPMs (as these devices get more powerful a flywheel may become necessary to stabilize it).
3. Get a better set of wheels before the next test!
I will post the results as I go along.