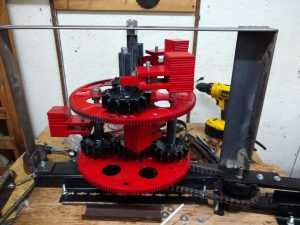 PIE 2.0 All Pretty — Before Being Worked Hard, Out in the Real World
I find that it has been tough to get busy and simply do what needs to be done lately. The PIE 2.0 has had to take a "back seat" to far more important family business, but I finally did get some time to finish up some "real world" testing at a reasonable speed of 55 MPH (88 KPH). It is not an easy thing to find a "flat" stretch of highway in the Northeastern United States (about 350 miles inland), so I have made do with a straight stretch with only some small rolling hills and with an estimated elevation rise from start to finish of approximately 15-20 feet (not verified with altimeter).
As before, measurements are taken and only considered valid if measured values are repetitively similar.
I was able to bring the PIE 2.0 up to slightly over 120 RPMs and test before it broke this last time and left a weight laying in the truck bed.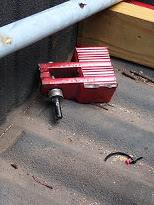 So, here is a simplified recap of test results obtained on this test roadway at 55 mph withal accessories off and auto trans in 3 (not OD) to help keep it from shifting during the test:
Running at 90 to 100 RPMs, engine load reduction was 6%.
Running at 105 to 108 RPMs, engine load reduction was 8%.
Running at 120 to 122 RPMs, engine load reduction was 13%.
At 120 to 122 RPMs the "feel" of forward thrust was much smoother although overall vibration was fairly pronounced.
During the final test run two things happened causing testing to end for the day.
First one of the weights found its way off the planet gear and into the bed of the test truck.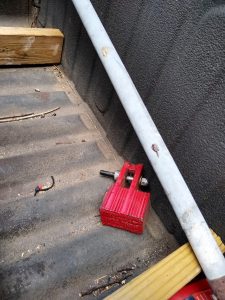 Second, the drill motor overheated, slowed and finally stopped until it cooled off.
Note that the picture on the left shows an added piece of metal welded to the frame to keep the drill bracket from shifting position which was a key problem with the drill's chuck "slipping" on the shaft.
Results: The PIE 2.0 design is a viable Hybrid design! It definitely needs a better build (no prototype temporary components), a better motor, and a sound deadening enclosure, but this is a repeatable, working design that can be built on a budget!
Conclusion of This Round of On-Road Testing: I am way past encouraged and I am soooo ready to build the next gen "PieTech" design. There are others also working on their own versions of a PIE so I really do not know what version my next will be, but I know it will be able to run at more than 120 RPMs!!!
The PIE 2.0 is, overall, a resounding success and it will be repaired. I do want to perform some "self-propulsion" demos with it before I consider it finished. I am hoping to video it on wheels and on water. I have had 1 request for a pendulum test, I do not consider it as accurate since it is too easy to skew the outcome by simply moving the center of gravity, so I have not seriously considered it yet.